Sing it with me now: "It's the most difficult (for productivity) time of the year."
Ah, working from home in December. When I struggle to resurface from the deepest sleep and the desire to stay in PJ's is stronger than ever.  When I want to eat peanut butter all day and bake all night. When I itch to finish the house projects on 2015's docket.
And when all I want to do is decorate! It's not just for my pleasure, of course. It's a civic duty.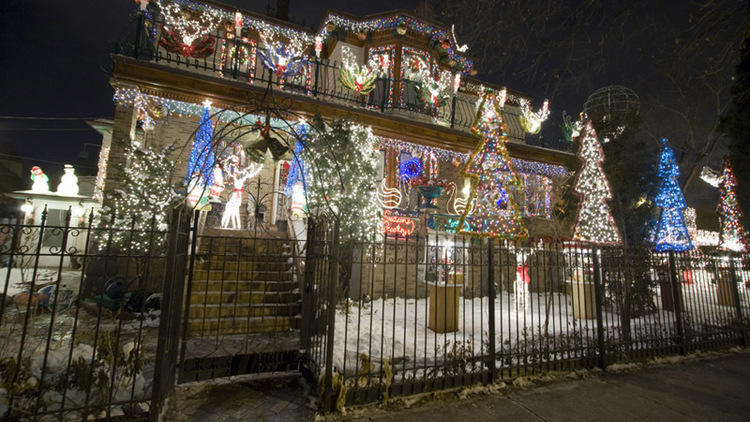 I've been running in the evening this week, in part because of the waking up problem, but mostly to enjoy the neighborhood's evolving light show. Tis the season of bright vs night. It's easy to imagine the relief of the ancients each time the sun started climbing again. My mood follows that arc as well, so the winter solstice means more to me than Christmas, which we celebrate more as a matter of tradition than religion.
Before leaving town to spend Thanksgiving with my parents (who are paragons of seasonal decorating), I had carefully unpacked and organized our tools of Holiday Cheer. Checked the lights. Smiled at recent thrift store scores and the memory of finding a tangled heap of red garlands in the alley. Less than 12 hours after our plane landed back in Chicago, Michael and Miguel set off to find a tree while I started untangling the garlands and understanding why they had been pitched.
Once the tree had fluffed out, I approached  it with reverence and a plan. Taking a page from Dad's playbook, I strung lights outside *and* around the trunk. No more shadows for deeply nestled ornaments. After about an hour, I decided a little mystery isn't so bad and punted the excess of Strand Three over the top. By tinsel time, things had taken a decidedly haphazard turn.
This morning, Michael bounded into the kitchen. "The tree looks great!!!"
But I've analyzed the photos. There's a dark spot in the lower right. And the tinsel! Ow, my eyes. I should really redo it before we add anything else. Maybe uncrowd some of the ornaments Miguel hung last night? Shhhh, don't say anything.
Gah! I must resist. I have work responsibilities. But, but. . .the ornaments on the tacky little gold tree in the back room are not balanced. And I haven't finished the lights and garlands out front. I need a runner for the dining room radiator. Not all the windows have been cleaned and time is running out before it's too cold. The bathrooms could use a scrub down. . . .
I think this needs to be a work from a coffee shop kind of day!