Sing it with me now: "It's the most difficult (for productivity) time of the year."
Ah, working from home in December. When I struggle to resurface from the deepest sleep and the desire to stay in PJ's is stronger than ever.  When I want to eat peanut butter all day and bake all night. When I itch to finish the house projects on 2015's docket.
And when all I want to do is decorate! It's not just for my pleasure, of course. It's a civic duty.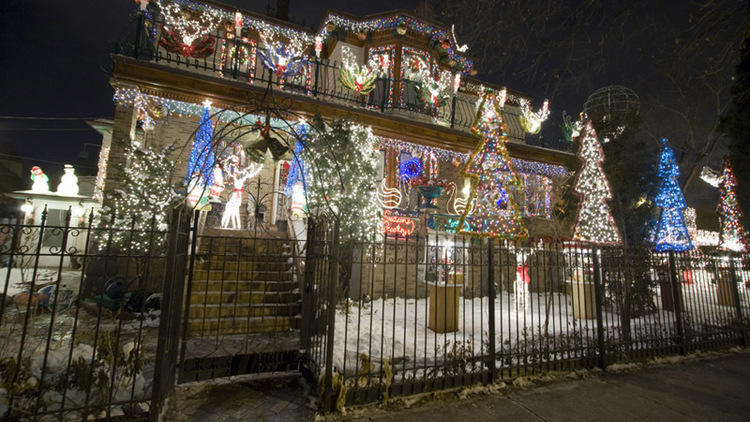 I've been running in the evening this week, in part because of the waking up problem, but mostly to enjoy the neighborhood's evolving light-show. Tis the season of bright vs night. It's easy to imagine the relief of the ancients each time the sun started climbing again. My mood follows that arc as well, so the winter solstice means more to me than Christmas, which we celebrate more as a matter of tradition than religion.
Early last week, I carefully unpacked and organized our winter holiday arsenal. Checked the lights. Smiled at recent thrift store scores and the memory of dumpster diving a tangled heap of red garlands earlier this year.  I wanted to be ready upon return from visiting my parents. A late Thanksgiving plus travel>>>sense of festive urgency.
Less than 12 hours after our plane landed, Michael and Miguel set off to find a tree while I rounded up the last scarecrows and started untangling the garland heap for the front fence. Gotta do our part for the block. One neighbor already draped their entire house with some sort of delicate gauze of tiny, cascading, shimmering, green lights. I'm not sure I like the look, but it's an impressive rebuke to December's darkness.
My efforts to contribute to the festive atmosphere would be no problem, but for my pesky perfectionism.  I don't mean my Mom's brisk perfection, which produces loveliness on the first go without stealing time from her other projects. I don't aspire to magazine level seasonal makeovers with coherent themes and color schemes.
I simply crave symmetry. No askew painting is safe from my nudges. Perfectly matched seams make me swoon. Lack of parallelism is my cruciatus curse.
Michael and Miguel brought home a gorgeous, magazine worthy tree. Once it finished fluffing out like a swan, I approached  it respectfully with lights and a plan. Taking a page from Mom's playbook, I strung lights outside *and* around the trunk. No more shadows for those shrinking violet ornaments! But my calculations were a little off, so I punted the excess of Strand Three over the top. The clock was ticking, my stamina waning, and my purported value of not letting perfection be the enemy of the good asserting itself. By tinsel time, things had taken a decidedly haphazard turn.
This morning, Michael bounded into the kitchen. "The tree looks great!!!"
But I've analyzed the photos. There's a dark spot in the lower right. And the tinsel! Ow, my eyes. I should really redo it before we add anything else. Maybe uncrowd some of the ornaments Miguel hung last night? Shhhh, don't tell him.
Gah! I must resist. I have work responsibilities. Oh no! The ornaments on the little gold tree (dollar store score last January) in the back room are not balanced. And I haven't finished the lights and garlands out front. I need a runner for the dining room radiator. Not all the windows have been cleaned and time is running out before it's too cold. The bathrooms could use a scrub down. . . .
I think this needs to be a work from a coffee shop kind of day!